Caring Moment
Everyone Needs a Little Sunshine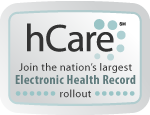 Most patients admitted to St. Lucie Medical Center are here for a short time. In fact, our average length of stay is 4.6 days. However, sometimes we have patients who are so ill that they must stay in the hospital for weeks or months. Many of these are critical ICU patients. Imagine being in a hospital bed for weeks and not being able to breathe fresh air or see the sun. It can be depressing. That's exactly what two caring healthcare professionals felt when they took the initiative to give one of our ICU patients a chance to get a little sunshine.
This caring moment was witnessed by CFO Ricardo Pavon. Upon leaving the hospital, Ricardo noticed that Kevin Kiraly from ICU and John Buchanan from respiratory therapy were just outside the door with a patient on a bed. They introduced Ricardo to the patient and explained that the patient had not been outside in over a month because of his condition. Kevin was actually manually "bagging" the patient to help him breathe outside of the ICU room he had been in for so long.
Because of the caring and compassionate hearts of both Kevin and John, this patient had a chance to enjoy the sunshine and feel what it's like to be outdoors again. Kevin and John have taken patient care to an entirely new level.