If you think you may be experiencing a medical emergency, immediately call your doctor or 911.
About Our Emergency Room
At the St. Lucie Medical Center Emergency Room you can expect quality care from a highly-skilled team of physicians, nurses, technicians and support personnel.
A recent expansion of the Emergency Department has increased our ability to respond to your medical needs. We now have 35 private rooms equipped with the most advanced equipment for examining, stabilizing, treating and monitoring your condition.
The St. Lucie Medical Center Emergency Room is recognized throughout the region for its advanced life-support capabilities. We are a Certified Stroke Center and the only Certified Chest Pain Center on the Treasure Coast.
Primary Stroke Center
The Primary Stroke Center follows guidelines set forth by the American Stroke Association and The Joint Commission. St. Lucie Medical Center has developed and implemented innovative approaches to advance acute treatment, recovery and rehabilitation for stroke patients in accordance with evidence-based practice.
The interdisciplinary approach for stroke care includes an expert team of emergency medicine personnel, nurses, laboratory staff, neurologists, neurosurgeons and radiologists, who have all received special training as a stroke care team.
Chest Pain Center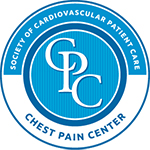 The Chest Pain Center is the first and only one on the Treasure Coast to receive full accreditation by the Society of Chest Pain Centers. The goal of the Society of Chest Pain Centers is to significantly reduce the mortality rate of patients with chest pain by teaching the public to recognize and react to early symptoms of a possible heart attack, reducing the time it takes to receive treatment and increasing accuracy and effectiveness of treatment. The Chest Pain Center at St. Lucie Medical Center has demonstrated expertise and commitment to quality patient care by meeting or exceeding a wide range of criteria and completing on-site evaluations by a review team from the Society of Chest Pain Centers.
Fast Track Services
At St. Lucie Medical Center, our goal is to put you at ease and help you receive the best emergency treatment possible in the shortest period of time. In addition to a full range of Emergency Services, St. Lucie Medical Center also offers Fast Track Services between the hours of 10:00am - 10:00pm to handle less urgent cases. Fast Track Services is a special area in the ER designed to get you treated and out without slowing down the care to more critically ill patients.
Senior-Friendly Emergency Room
We now provide those over 65 with special attention when they are in need of care. While our ER Staff provides prompt, quality care to EVERY patient, we recognize that seniors have specific needs. Learn more our Senior-Friendly ER.
Location
1800 S.E. Tiffany Ave
Port St. Lucie, FL 34952
Need help finding a physician?
For routine health matters and check-ups, contact your primary care physician. Regular check-ups with a primary care physician is the best way to maintain good health. For a FREE physician referral, call (800) 382-3522 or visit our physician directory.
Emergency Related Health Content