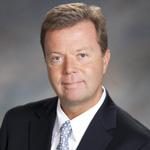 Jay Finnegan
Chief Executive Officer
Thank you for visiting the St. Lucie Medical Center website. Please take a few moments to review the wide range of health information and learn more about our hospital and its services.
St. Lucie Medical Center is defined by the compassion of our highly–skilled caregivers. Our care team is passionate about providing personalized care and creating an extraordinary experience – for the patient and the caregivers. In fact, all leaders at our organization start their day by visiting patients to ensure they are getting what they need, when they need it.
We are especially proud of our award–winning Orthopedic & Spine Institute. It is like no other on the Treasure Coast. It is designed to feel more like an upscale hotel but offers the latest in technology and equipment as well as a team of experts dedicated to a faster recovery time.
Recently, we opened our newly expanded, child–friendly Emergency Department. This expansion was focused on improving patient's experience. We doubled the size to ensure that every patient has a private room. We know that when you are sick or injured, the last thing you want to do is share a room with a stranger.
We are proud to be part of the Treasure Coast Healthcare System which is an integrated system of hospitals, physician practices and medical practices that include: Lawnwood Regional Medical Center & Heart Institute, Raulerson Hospital and St. Lucie Medical Center. Together, we are dedicated to being the premiere healthcare provider in our community and are always focused on putting the patient first.
We are committed to always providing the best care to our patients, the best workplace environment for our employees, physicians and volunteers.
I am PROUD TO CARE for our community.
Sincerely,
Jay Finnegan
Chief Executive Officer