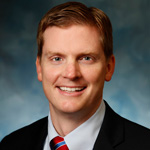 Corey Lovelace is the Chief Operating Officer of St. Lucie Medical Center, a 229-bed acute care hospital located on the Treasure Coast of Florida, an HCA affiliate. He has been with St. Lucie Medical Center since November of 2016. Prior to joining St. Lucie Medical Center, Mr. Lovelace served as the Chief Operating Officer at Dupont Hospital, a 131 bed acute care hospital in Fort Wayne, Indiana. He previously served as an Assistant CEO at Lutheran Hospital, a 396 bed tertiary care facility in Fort Wayne, Indiana, and as a Program Assistant at Birmingham VA Medical Center in Birmingham, Alabama.
Mr. Lovelace is a decorated veteran of the U.S. Air Force and served five years as a Senior Electronic Systems Technician. Mr. Lovelace was stationed at bases in Mississippi, New Mexico, and Italy, and also deployed in support of Operation Enduring Freedom/ Operation Iraqi Freedom. Mr. Lovelace obtained his Bachelor of Science degree in Health Care Management, Masters of Business Administration, and Masters of Science in Health Administration from University of Alabama at Birmingham. Mr. Lovelace also holds a Six Sigma Green Belt Certificate from the Institute of Industrial Engineers.
Mr. Lovelace gives back to the community by active participation on local boards including United Way, Young Leaders, and Mad Anthony's Children's Foundation. He is an associate of the American College of Healthcare Executives and Healthcare Financial Management Association. He and his wife, Erica, reside the community of Tradition in Port St. Lucie, Florida.