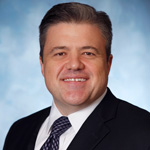 Jay Graham is the Chief Financial Officer of St. Lucie Medical Center, a position he has held since December 2015. Prior to coming on board at St. Lucie, Jay was the Chief Financial Officer of West Palm Hospital (later renamed JFK Medical Center North Campus). Prior to that, he was the Controller at Westside Regional Medical Center from January 2013 through August 2014.
Jay began his career at HCA as a Staff Auditor in 1997. He spent 11 years in Internal Audit and left as a Director. Jay also spent close to three years with Community Health Systems as an Assistant Chief Financial Officer at Brandywine Hospital in Coatesville, Pennsylvania.
Jay is a native of Fulton, Kentucky. He holds a Bachelor of Science degree from Murray State University in Murray, Kentucky and is an active Certified Public Accountant.