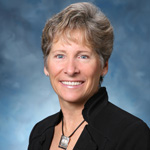 Nancy Hilton is the Chief Nursing Officer of St. Lucie Medical Center (SLMC), a 229 bed hospital located on the Treasure Coast of Florida, an affiliate of HCA. She has been the Chief Nurse at SLMC for 22 years. Prior to that, her career ranged from ED staff nurse to clinical nurse specialist to educator and nursing director of a heart center at Trident Regional Medical Center in Charleston, SC. She opened Summerville Medical Center as the Chief Nursing Officer. Nancy earned her Bachelors from Duke University and her Masters from the University of Washington. She was valedictorian of both her colleges of nursing.
Through Nancy's leadership and vision, SLMC received the honor of being designated as one of only five hospitals by The Advisory Board Company as a Destination Nursing Hospital in 2002. In 2004 Nancy partnered with the Christine E. Lynn College of Nursing at Florida Atlantic University to develop the new Masters prepared role of Clinical Nurse Leader. In 2007, Nancy presented "Implementing the Clinical Nurse Leader Role" at the University of Alabama, then again in 2008 at the Joint Commission National Conference in Chicago, the HCA CNO Council in Nashville and the annual Certified Nurse Leader conferences in San Diego, Miami and Los Angeles. She has also presented her research on "Nursing as Caring" at the International Association of Human Caring Conference held in Chapel Hill, North Carolina. Her work has been published in the Journal of Nursing Administration, "Implementing the Clinical Nurse Leader Role in a For Profit Environment: A Case Study." Nancy has published several additional articles on Patient Engagement and Nursing as Caring.
Community involvement is a high priority for Nancy. She has served as a board member for the local Boys and Girls Club and was awarded new Board Member of the Year for the state of Florida in 2011. She continues to lead the St. Lucie County Youth of the Year Program. Nancy has also served the local community in the capacity of Chairperson for the Making Strides against Breast Cancer in 2012 and 2013. She has served in leadership roles for both state and national Professional Nursing Organizations. Nancy is known for her innovation and as an advocate for bedside nurses and dedication to providing quality care, cost effectively. In January 2015, Nancy was awarded the American Association of Colleges of Nursing's National Visionary Award for her work in developing and promoting the role of the Clinical Nurse Leader. Nancy values family and has been married to Larry, her husband of 36 years, has two children, Aaron and Rachael, and two grandchildren.