If you need to talk or request a referral, call us at (772) 466-1500.
Dr. Marie-Addly Cambronne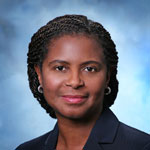 Dr. Marie-Addly Cambronne, M.D. is the Medical Director of Treasure Coast Behavioral Healthcare at St. Lucie Medical Center. Board certified in Psychiatry and Neurology, Cambronne leads a treatment team focused on the mental and physical health of patients. Dr. Cambronne attended medical school at St. George's University in Grenada, and completed her residency at the University of Miami School of Medicine.
Dr. Cambronne's training in Geriatric Psychiatry is especially helpful to older adults on the Treasure Coast. Having completed a year of fellowship training and serving as Chief Fellow in this subspecialty at the University of Miami Medical School, her in-depth understanding of the unique nature of the aging population is beneficial to both the patient and their family. The ability to diagnose and treat mental disorders in older adults requires a comprehensive approach to both psychiatric and medical conditions affecting the patient. Helping families understand and cope with changes in their aging loved ones is a critical part of the treatment of geriatric patients. Dr. Cambronne's expertise makes St. Lucie Medical Center's Behavioral Health Program the best choice for seniors in need of mental health services.
Treating the Mind and Body
Treasure Coast Behavioral Healthcare at St. Lucie Medical Center is a 22-bed, high quality crisis intervention and stabilization unit backed by the full range of medical services provided at the hospital. Located within the hospital, this is the only center in St. Lucie County with medical care on-site 24/7.
"When a patient has a medical crisis, our psychiatric team has immediate access to the hospital's round-the-clock hospitalist—a physician on-staff who provides services within the facility night and day," says Marie-Addly Cambronne, M.D., a board certified Psychiatrist and Medical Director for the program. "We don't have to wait for a call-back in the middle of the night in order to get medications, tests, and other medical treatments required for the patient."
Access
Our Access Team provides free consultation and assessments 24 hours a day, 7 days a week. Inquiries about services are strictly confidential and can be made by professionals, family members, friends, or the individual. Referrals can also be made by managed care companies and professionals.
Based on information provided during the initial assessment, our Access Team professionals will provide recommendations for treatment. In addition to 24/7 availability via telephone, the team responds to psychiatric emergencies at St. Lucie Medical Center's Emergency Department where patients may also receive a medical exam.
Whether you come to the hospital or call us on our crisis phone lines, you will speak to a behavioral health professional who can help.
If you or someone you know may benefit from treatment or have questions, please contact our compassionate staff today.

Call (772) 466-1500 or toll free (800) 433-2673.
Inpatient Services
Located on the second floor of St. Lucie Medical Center, the 22-bed Inpatient Adult Unit offers a comprehensive, short-term stay with psychiatric and medical services for the patient. It is a safe, supportive, therapeutic environment where patients benefit from a wide range of interventions that include crisis stabilization, daily sessions with a Psychiatrist, individual and group therapy, family therapy, education courses, and medication management. Treatment is tailored to focus on individual needs which assist towards restoring mental health and a sense of well being.
Patients suffering from a chemical dependency are provided a Dual Diagnosis Tract which is a specialized program for the treatment of substance abuse. After receiving a safe and comfortable detoxification that is medically supervised, patients can begin their recovery process.
Social workers and addiction counselors provide resources that patients will require to continue the work started during hospitalization.
Commitment to treatment is a brave and powerful first step to a life of recovery.
Signs and Symptoms of Behavioral Health Problems
We are all concerned about our physical health, so we go to the doctor, we exercise, and we try to eat right. But what about our mental health? Sometimes we need to be reminded that psychological issues are just as important as physical ones.
When you feel sad or a little blue, it's usually a temporary thing. However, if you are consistently out of sorts, it may be time to get screened for depression or other behavioral health conditions.
If you or a loved one are experiencing these signs and symptoms, call us for help:
Excessive worry or fear
Prolonged confusion
Consistent feelings of sadness
Extreme changes in eating habits
Abuse of alcohol or drugs
Withdrawal from family, friends, or hobbies
Hallucinations or loss of reality
Thoughts of suicide
Outbursts of anger or violence
Physical issues such as dizziness, fatigue, and rapid heart beat
Mental illness can be the result of a number of factors, many of which are out of your control:
Family History
If you have a close relative with mental health problems, you are at a higher risk since certain characteristics may be inherited.
Traumatic Experience
You may be at increased risk if you have been involved with war or other violence. The same is true if you were physically or sexually abused as a child.
Biological Issues
If you have suffered a brain injury or if you were exposed to viruses or toxins while you were in your mother's womb, your mental functions can be affected.
Stressful Situations
If you are going through a divorce, grieving a death, or suffering financial problems, these concerns can lead to psychological issues.
Drug Abuse
Using drugs can alter the way your brain functions which affects your mental health.
If left untreated, mental illness can lead to a number of problems including isolation, difficult relationships, violence, substance abuse, heart disease, and suicide.
If you or a loved one is experiencing any of these symptoms, please contact our Patient Access/Crisis line at (772) 466-1500 or (800) 433-2673.