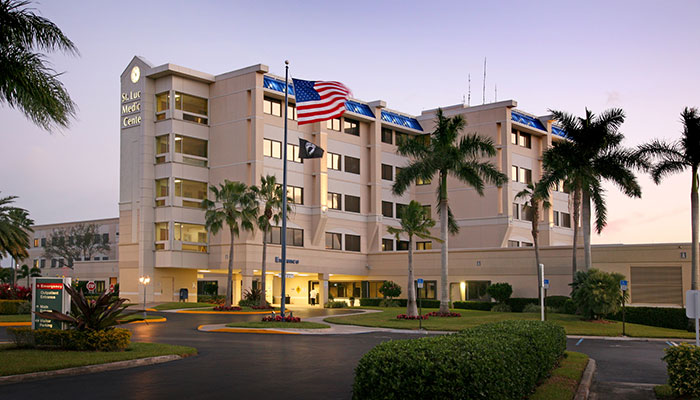 If you think you may be experiencing a medical emergency, immediately call your doctor or 911.
About Our Emergency Room
At the St. Lucie Medical Center emergency room, you can expect quality care from a highly skilled team of physicians, nurses, technicians and support personnel.
A recent expansion of our ER has increased our ability to respond to your medical needs. We now have 35 private rooms with the most advanced equipment for examining, stabilizing, treating and monitoring your condition.
The St. Lucie Medical Center emergency room is recognized throughout the region for its advanced life-support capabilities. We are a Certified Stroke Center and the only Certified Chest Pain Center on the Treasure Coast.
Emergency Info
---
Senior-friendly emergency room
We now provide those over 65 with special attention when they are in need of care. While our ER staff provides prompt, quality care to every patient, we recognize that seniors have specific needs. Learn more about our senior-friendly ER.
---
Fast Track ER Services
At St. Lucie Medical Center, our goal is to put you at ease and help you receive the best emergency care possible in the shortest period of time. In addition to a full range of emergency services, our experienced ER staff also offers Fast Track services between the hours of 10AM – 10PM to handle less urgent cases. Fast Track is a special area in the ER designed to get you treated without slowing down the care to more critically ill patients.
Why Fast Track services?
Fast Track is a quicker, more convenient way to get emergency care for minor illnesses and injuries. Our Fast Track isn't a walk-in clinic – it's an extension of our emergency room, designed to care for less-critical emergencies. Should your emergency become more serious, we can quickly adjust your care plan and even admit you to the hospital if needed.
How do I get into Fast Track?
During the emergency room registration and evaluation process, also known as triage, a medical professional will determine the seriousness of your emergency. If you have less-urgent issues, you'll be assigned to the Fast Track.
Where is the Fast Track ER located?
The Fast Track is located within the emergency room. You will use the same entrance and check-in as our regular ER.
When is the Fast Track open?
Fast Track is open daily from 10:00am – 10:00pm. The St. Lucie Medical Center ER is open 24 hours a day.
Will I see a doctor at Fast Track?
Fast Track patients will be seen by a qualified medical professional, defined as a Doctor of Medicine (MD), Doctor of Osteopathy (DO), Physician Assistant (PA), Advanced Registered Nurse Practitioner (ARNP), nurses and other team members.
What conditions are treated at Fast Track?
The Fast Track provides emergency-level medical care for minor illnesses and injuries such as:
Ear complaints
Cough symptoms
Sore throat
Back pain
Cuts
Bites, stings and allergic reactions
Burning or infrequent urination
Constipation or diarrhea
Rashes
Suture removal
Wound checks
---
Recognition
---
Primary Stroke Center
Accredited Chest Pain Center