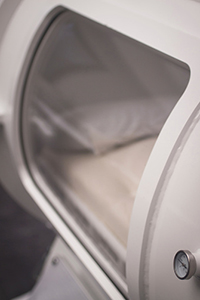 The St. Lucie Medical Center Hyperbaric Oxygen Therapy Program is located within the Advanced Wound Center. Hyperbaric Oxygen Therapy (HBO) is a medical treatment in which the patient breathes 100 percent oxygen while under pressure in a specialized hyperbaric chamber. The purpose of breathing 100 percent oxygen under pressure is to dissolve more oxygen in the patient's blood to deliver more oxygen to those tissues having trouble healing. Currently the program utilizes two Sechrist mono-place hyperbaric chambers. These mono-place chambers are designed to treat one patient at a time in each chamber.
What conditions benefit from Hyperbaric Oxygen Therapy?
diabetes and a wound that is slow to heal or is not healing
damaged tissue from radiation therapy
a skin graft that has a questionable blood supply
certain infections of the bone and/or skin
certain wounds that have not shown improvement in 4 weeks
Who performs the Hyperbaric Oxygen Therapy?
Treatments are performed by specially trained HBO technicians and supervised by physicians trained in Hyperbaric Medicine.
How do I become a patient?
Our patients are generally referred by their primary physician or a physician treating the condition to be treated by HBO Therapy. We maintain close contact with your personal physician for continuity of care. Please contact us at (772) 398-3609 for more information and to make an appointment. You will be scheduled for an evaluation by one of our hyperbaric physicians. Before beginning any treatment your assigned physician will evaluate your condition and review your medical history and general health. We may request information, such as history and physical, office visit notes, and results of previous laboratory and diagnostic tests from your primary physician. Based on the physician's assessment, he/she may order further laboratory and other specialized tests to help diagnose and treat you. At this time the physician will discuss with you whether or not you meet the criteria set by the Undersea and Hyperbaric Medicine Society for Hyperbaric Oxygen Therapy.
How should I prepare for my first visit?
When you call for an initial appointment you will be asked a few questions about your medical condition. You will also be asked to provide insurance information so that we can pre-register you for the appointment; have your health insurance card(s) available. Some health insurances require the patient to have a referral from their primary care physician and/or pre-authorization. This will be discussed with you during the pre-registration process. Our office staff will be able to assist with any authorizations required for the initial and subsequent visits.
Please prepare and bring the following with you to your first appointment:

Make a list of all medications you are taking (including over-the-counter medications like aspirin and vitamins).
Make a list of any allergies you have to medications and other things.
Bring copies of any medical records you may have.
Bring your health insurance card(s) and a photo identification with you.
If you have diabetes, you may bring snack food and medication with you.

Arrive on time for your appointment. You will be asked to complete a questionnaire about your medical history prior to being seen by the physician.
Your initial visit will take longer to allow for a full assessment. Please schedule transportation and other appointments to allow for this.
What Happens during the Hyperbaric Oxygen Treatment?
You will be asked to change into 100% cotton scrubs and educated on the risk factors and safety measures in place before the treatment begins. The hyperbaric physician will perform a short assessment before you are placed in the hyperbaric chamber. The total treatment time is approximately 2 hours, during which time you will be able to listen to music or watch a video.
What will I feel while in the Hyperbaric Chamber?
The only sensation you will experience is during the beginning (compression) phase of the treatment. The slowly increasing pressure will push on your eardrum, and give you the same feeling you would experience when landing in an airplane or diving to the bottom of a swimming pool. The hyperbaric technician will instruct you on the different methods of relieving this ear pressure.
Location:
Our Hyperbaric Oxygen Therapy Program is located at:
St. Lucie Medical Park
1871 SE Tiffany Ave
Port St. Lucie, FL 34952
Tel: (772) 398-3609
Medical Director: Dr. Giachino