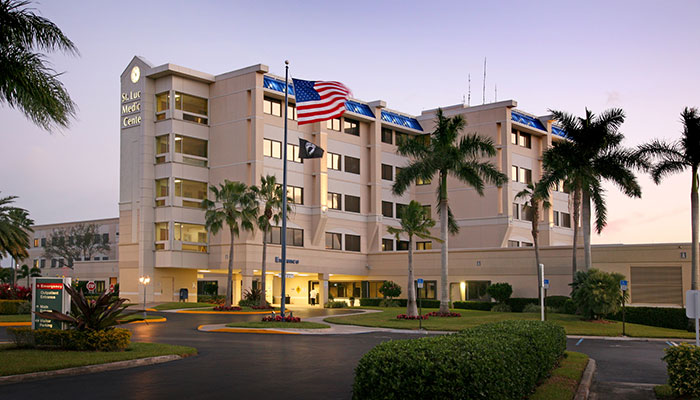 If you think you may be experiencing a medical emergency, immediately call your doctor or 911.
Senior emergency care at our ER
St. Lucie Medical Center recently completed an expansion to our ER. Our mission is to provide the St. Lucie community with safe, efficient and compassionate healthcare of the highest quality for people of all ages.
One of the ways we are trying to accomplish this goal is by expanding our ability to care for seniors in the St. Lucie community. Our updated emergency room includes renovations with a focus on senior-friendly ER care.
If you believe you or someone you love is experiencing a medical emergency, do not try to drive to the closest emergency room. Call 911 for immediate medical assistance and transportation to the closest ER.
The new senior emergency room includes renovations that:
Increase from 24-beds to 35 all private rooms
Increase of square feet to total of 16,000
Senior Focus:

Senior Bands to identify the patient and ensure they receive all the benefits of our senior emergency room services
Education on the electronic medical record and one-on-one help to sign-up
Dedicated rooms with special lighting, hand rails, extra seating for family members, white boards with large writing to communicate plan of care, aromatherapy and a conveniently located telephone with large numbers
Pocket card for medications and allergies
One-on-one help scheduling necessary follow-up with their primary care physician
Treating seniors with the respect they deserve
We understand seniors are different, and need to be treated with the respect they deserve. Our doctors, nurses and other ER staff have been trained to be able to better communicate with and coordinate care for seniors. Our emergency room is equipped to handle senior-related emergencies like broken bones or pneumonia.
When it comes to senior-friendly emergency care, look no further than St. Lucie Medical Center's emergency room
For more information about the Senior Emergency Department at St. Lucie Medical Center, call (772) 742-9050.